It's just like the way Aurelio says," It's the sauce that makes your day". Aurelio holds a good reputation for its sauce. Aurelio's marinara, tomato basil, and vodka sauces have been winning people's hearts away for a long while.
So today, we'll be covering the basic pizza sauce of Aurelio's. And neither it takes a lot of cooking experience nor that much time to cook.
This is a sauce so easy to cook yet so delicious in its way. If you want to know more about the recipe, give this article a read
Difficulty Level: Easy
Servings: 4-6 servings
Preparation Time: 40 minutes
Cooking Time: 30 minutes
Total Time: 70 minutes
Nutrition Facts:
Serving Size: 1 (1217) g
Servings Per Recipe: 1
| | | |
| --- | --- | --- |
| Nutrition Aspects | AMT. PER SERVING | % DAILY VALUE |
| Calories | 117 | |
| Fat  | 3 g | 3 % |
| Cholesterol  | 0 g | 0 % |
| Sodium | 0.518 g | 21 % |
| Total Carbohydrate | 23.3 g | 7 % |
| Dietary Fiber | 3.4 g | 13 % |
| Sugars | 13 g | 52 % |
| Protein | 3.3 g | 6 % |
Ingredients
1 can (29 ounces) tomato puree
12 ounces of beer
2 tablespoons of white sugar
1 1⁄2 teaspoons of garlic powder
1 1⁄2 teaspoons of dried basil
1 1⁄2 teaspoons of dried oregano
1 teaspoon of salt
Ingredients for Homemade Tomato Puree
8-9 (1 kg) of tomatoes
2 liters of water
2 teaspoons of salt
Step By Step Process For Aurelio's Pizza Sauce Recipe
Did you get your ingredients ready? Then, let's get down to business.
Step 1: Prepare the Puree
So, Let's get done with the puree first. You can get puree from shops, too. But if you want to make it on your own, we bought out the recipe for you. This is quite an easy step if you follow the instructions provided.  
First, it's about prepping the tomatoes. Thoroughly rinse the tomatoes. Take 1 kg of tomatoes. Make a 12 inch criss-cross cut on the bottom of the tomatoes.
Take a big pan and fill it halfway with water. The water should be sufficient enough to completely submerge the tomatoes. 
For 1 kg of tomatoes, use 2 liters of water. Make sure the tomatoes in the pan have enough room to move around.
Season the water with salt. Use 2 teaspoons of salt to the mix. Depending on how many tomatoes you're using, you can easily half or double the salt.
On a high burner, bring the water to a rolling boil.
Place the tomatoes in the hot water. Let the tomatoes boil for two minutes at a high temperature. 
After that, turn off the heat. Allow 10 to 15 minutes for the tomatoes to soak in boiling water.
Cover the pan with a lid. Let them cool for a while.
Strain the tomatoes in a colander or strainer. Allow them to cool to room temperature.
Peel the skins off the tomatoes once they've reached room temperature. Then throw them on a clean chopping board with clean hands. 
Remove the eye of the tomato from the stalk and discard it. Roughly slice the tomatoes with a clean chopping board and knife. 
You can just chuck whole tomatoes into a strong blender if you have one. There's no need to slice them up if you do that.
In a blender or grinder jar, combine the chopped tomatoes. Blend until completely smooth. 
Press the pulp afterward. Take those pulp away and rinse if it's necessary.
And that's it! The puree is done. 
Step 2: Assemble the Sauce
Take a medium saucepan. Heat the oil in it at a medium pace. Then take the garlic powder and cook it with the oil. 
Just after cooking them for 2 minutes, add the tomato puree. Put those white sugar, dried basil, dried oregano, and salt into the puree. 
Stir it for a few minutes that way. Boil the mixture on medium heat level.
Right after that, turn off the heat to medium-low and simmer for 30 minutes.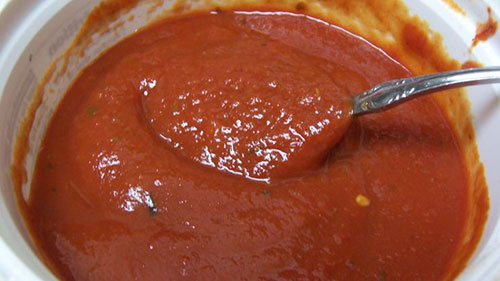 And your Aurelio's epic sauce is ready! By the way, this is also known as Thin Crust Pizza Sauce. As you get to see them served on Aurelio's thin crust pizza.
Some Important Facts about Aurelio's Pizza
If you follow the instructions carefully, you will be able to carry out this easy recipe. But in case you want to know more, we've got some tips-
Is Handmade Tomato Puree Better Than Readymade Puree?
Both handmade and readymade puree serve well for your pizza. But, If you're concerned about artificial flavors in your puree, go for homemade puree instead. In case, you have to use the readymade one, try to keep it less in your kitchen. 
Can Aurelio Pizza Sauce Be Made Without Cooking?
As per its essence, it's easy and savory to cook the sauce. The cooking blends in the ingredients and also brings out a beautiful smell. However, you can try making the sauce without cooking it.
What are you waiting for now that you have the entire Aurelio's Pizza Sauce recipe? Take a bite of pizza with your Aurelio's handmade pizza sauce.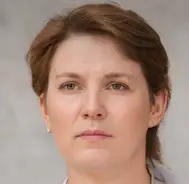 Latest posts by Leah Greenstein
(see all)