Apple crumble is one of the best go-to desserts when you are hosting friends or any family. Since apples are in abundance during fall, this dessert becomes a special one. Its sweet and decadent flavor will make you go 'Mmmmm'.
It is super easy to make and doesn't require much time at all. You can start making it prior to an hour's notice. So, if you still haven't tasted it, or made it, this is the perfect recipe for you. So why waste any more time? Dive in!
Difficulty Level: Easy
Serving Portion: 3-4 servings
Preparing Time: 10 minutes
Cooking Time: 30 minutes 
Total time: 40 minutes
Nutrition Facts
1 cup apple crumble serves you around 454 calories.
Amount per serving(1cup – 282g)
| | | |
| --- | --- | --- |
| Nutrient | Amount | Percentage % |
| Cholesterol | 0 g | 0% |
| Saturated Fat | 1.9 g | 10% |
| Total Fat | 9.6 g | 15% |
| Sodium | 990 mg | 41% |
| Potassium | 220 mg | 6% |
| Carbohydrates | 86 g | 29% |
| Protein | 5 g | – |
| | |
| --- | --- |
| Supplemental | Amount |
| Iron | 12.8% |
| Calcium | 7.6% |
| Vitamin A | 8% |
| Vitamin C | 10.4% |
The values and proportions are approximate. The percentage values are formed on a 2000 calorie diet.
Ingredients
Spiced Apple Filling
5 apples, peeled and cut into 1-inch pieces
1 tablespoon apple cider vinegar
2 tablespoons water
1 teaspoon cinnamon
¼ teaspoon ground ginger
¼ teaspoon nutmeg
Pinch of sea salt
Crumble Topping
½ cup almond flour
⅓ cup all-purpose flour
⅓ cup whole rolled oats
⅓ cup crushed walnuts
⅓ cup brown sugar or coconut sugar
⅓ cup melted coconut oil
½ teaspoon cinnamon
Heaping ¼ teaspoon sea salt
1 teaspoon water, if needed
Directions For Making The Perfect Apple Crumble
Making an apple crumble for dessert is the easiest thing to do. There is no complex process. The directions for making the apple crumble in the easiest way are directed below.
Step 1: Preheat The Oven
Take an 8×8 inch baking dish. Grease the dish with butter. Place it in the middle rack of the oven. Now preheat the oven at 350° F.
Step 2: Prepare The Apples
Take 4-5 apples and peel their skins off. Then cut them into wedges. A lot of people don't peel them off. But, the skin of the apple adds a weird taste to the crumble. So it is recommended to get rid of the skin.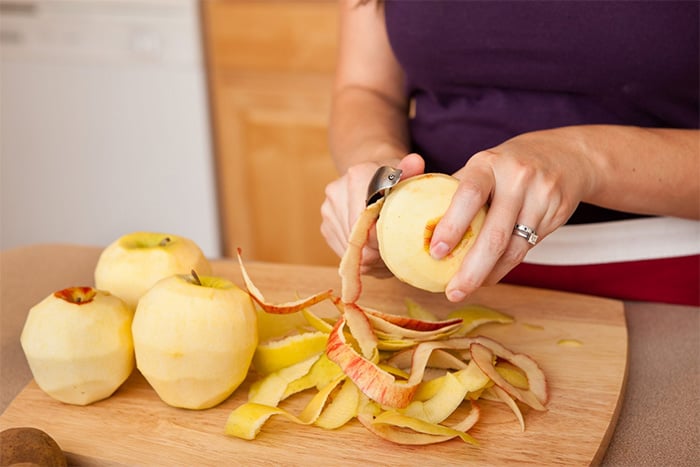 Step 3: Make The Filling
Take a medium-sized saucepan. Put all the apples into the saucepan. Then pour apple cider vinegar and water. Let it simmer over very low heat. Cover the pan with a lid and stir occasionally once every 1 minute.
Add 2 tbsp. water to make the filling moist. Stir consistently so that the apples do not burn at the bottom of the pan. Do this for 15 minutes.
Now uncover the pan and add cinnamon, ginger, nutmeg, and salt. Stir and mix well. The apples should look tender and the juice should look thick.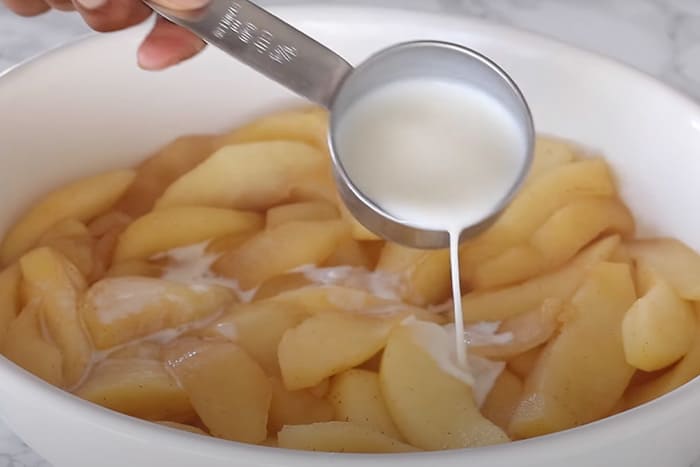 Step 4: Make The Topping
In a food processor or blender, put in flour, oats, walnuts, cinnamon, coconut oil, and salt. Pulse until they are crumbly. If you think that it's too dry, you can add a teaspoon of water. This will help the mixture to crumble and form clumps.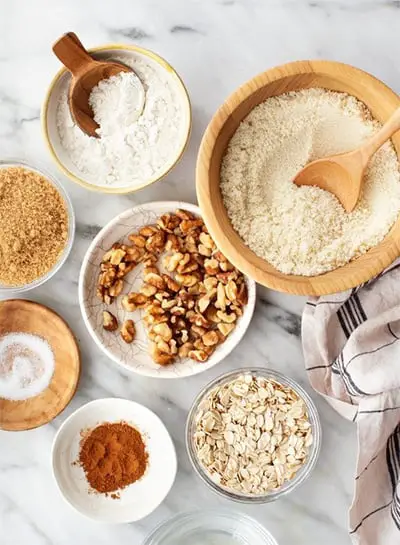 Step 5: Assemble And Bake
Scoop the apple filling into the previously greased baking sheet. Sprinkle the crumbled toppings on top of the filling. Now put it to bake for 20 to 30 minutes at 350° F. You'll see that the toppings are becoming golden brown and crispy. That's when you'll know that the dessert is complete and ready to eat.
Serve it with whipped cream, custard, or ice cream.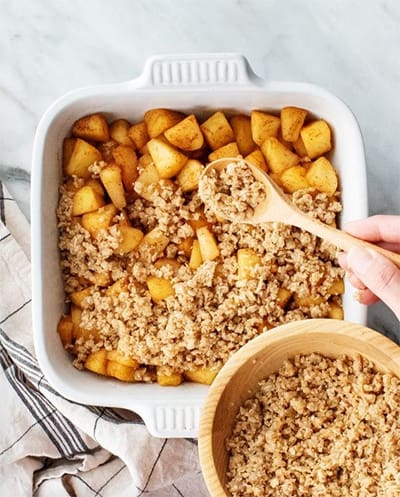 Some Facts To Know About Apple Crumble
If you are making an apple crumble for the first time, take a look at the following tips and suggestions. These will benefit you even if you're not cooking for the first time.  
You'll be able to upgrade your apple crumble and lead it to perfection.
What Type of Apples Should I Pick For Crumble?
Generally, any fresh apple should do good for this recipe. However, Jonagold, Granny Smith, Mutsu, Winesap, Cripps Pink, Braeburn, Honeycrisp are best for baking. So you can pick any one of these apples you like.
Does This Crumble Recipe Go With Blueberries?
Using blueberries can be a great substitution. In that case, go with 4 cups of blueberries. Skip step 2 as blueberries are not as composite as apples.
Is Apple Crumble Bad For Health?
Apple crumble is free from cholesterol and has low saturated fat. So, they are not unhealthy. However, they are also not termed to be exactly healthy because of their high-calorie value
How Long Can You Store Apple Crumble?
Apple crumbles can be stored for quite a long time. For baked apple crumble, you should wrap and store them in your refrigerator. It can last for up to 3-4 months.
For unbaked apple crumble, there are two options for you. You can store the filling and the crumble separately. Or, you can store them together. However, either way, you should wrap and store the crumble in the coldest part of your refrigerator. Make sure the wrapping is air-tight. This way, they can last up to a year.
Congrats! You just learned how to make the perfect apple crumble. So, don't wait anymore, call your friends over. Let them grab a taste of your perfect and delicious apple crumble.
If you liked this recipe, make sure to let us know in the comment section. You can also share any of your ideas about this recipe.
Till then, all the best.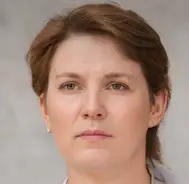 Latest posts by Leah Greenstein
(see all)